FDFA Helps Defend Free Speech in California
By John Friend
On Sept. 8, 2015, I received an email from a reporter with The San Diego Union-Tribune, the largest newspaper in San Diego County. The reporter, J. Harry Jones, covers local government and politics in North San Diego County, where I reside and work.
At the time, I was employed by the City of Escondido, one of the oldest cities in San Diego County, as the Division Coordinator in the City Manager's Office. I had been working on a part-time basis for the City of Escondido for well over one year prior to accepting the full-time position as Division Coordinator. I enjoyed working for the City and was passionate about public service and public administration.
—————————————————————————————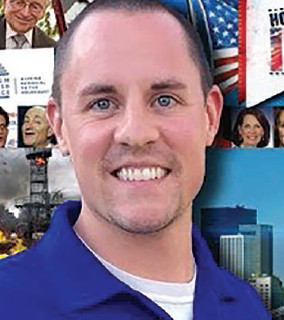 John Friend
——————————————————————————————–
The reporter informed me via email that it had recently come to his attention that I was employed by the City of Escondido and also maintained a personal website. He described my political leanings and activism as "controversial" and explained that the City had "no idea" about my private journalistic endeavors and political views. He further explained the City was "trying to figure out what to do" after he and possibly others informed the City of my website and political views.
I knew immediately that my employment status with the City was in jeopardy, and that I would likely be either terminated or forced to resign. The very next day, on Sept. 9, I reported to work at City Hall. About 30 minutes after arriving, I was called into a conference room with my direct supervisor, the Executive Assistant to the City Manager, the Assistant City Manager (with whom I worked closely), and the Director of Administrative Services, who is responsible for the Human Resources Department.
I was informed that my employment with the City of Escondido was terminated immediately and that the decision of the City was not up for discussion. After informing me of their decision to terminate my employment, I was given the option of either accepting the termination or resigning in lieu of termination. I ultimately chose to resign in lieu of termination, and told my former employers that it was an honor to serve the City of Escondido.
What has happened to me has happened to countless individuals across the United States, the so-called "land of the free." Americans live under the illusion that we have free speech and the First Amendment to protect our God-given right to express ourselves freely, to hold controversial political and historical perspectives, and to engage in critical research and political activism. The simple fact of the matter is that people such as myself are routinely persecuted, harassed, and ostracized, shunned by mainstream society and fired from our jobs, simply for holding controversial views.
In America, the "most free country on Earth," maintaining and expressing political and historical views that run contrary to the enforcers of political correctness and intellectual tyranny is a very dangerous and risky endeavor. As I and many others have experienced, there are very real consequences for publicly expressing dissenting points of view.
That is the essence of tyranny. It is entirely contrary to the founding principles of this once-great nation.
The First Amendment was written and has been interpreted to specifically protect individuals expressing controversial and marginalized points of view.
What is going on in America is unacceptable. It is time for the people to stand up for their God-given, Constitutionally protected rights. That is exactly what I aim to do, and I need your support.
Please consider making a generous donation to the FOUNDATION TO DEFEND THE FIRST AMENDMENT, a 501(c)3, which has graciously accepted my appeal for legal and financial assistance.
Click on the button below to support free speech, or go to FDFA's donations page.